Posted by Beverley Scott on
Fleas are not just a seasonal issue for the warmer months but can actually be an all-year-round problem.
Posted by Luke Derbyshire on
Our 4 legged family members deserve the best when it comes to nutrition and overall well-being. While we often hear about the importance of a balanced diet for dogs, there are specific ingredients that can provide a range of health benefits. In this blog post, we'll explore two such ingredients: cinnamon and pumpkin.
Posted by Beverley Scott on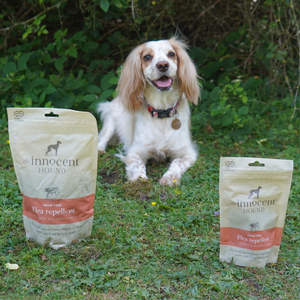 Fleas and ticks are ectoparasites – this means that they live on the outside of your dog. Whilst being horrible to think about, they also have the chance to cause irritation and inflammation in your canine companion as well as potentially to us!
Posted by Phoebe Mason on
Of course every day is dog day when you have a hound at home, but the 26th of August was founded as National Dog Day in 2004 with the aim of celebrating dogs of all breeds and sizes everywhere.
Posted by Phoebe Mason on
Here's a quick list of why taking our air-dried food away with you on your dog friendly summer holiday, might make traveling that little bit easier.