---
Air-Dried Goodness For Your Innocent Hound
The Innocent Hound is a family owned business based in our human-grade factory in Yorkshire.  We produce award-winning, air-dried food and treats that are delicious, nutritious and made with high quality, responsibly sourced British meats.
Our grain-free recipes contain select cuts of raw, British meat, sourced from British farms with some of the highest animal welfare standards in the world, and healthy fruit and vegetables.
The quality ingredients are carefully combined and handcrafted into different formats to make a range of food and treats. The products are produced in small batches by our skilled team of perfectionists, before being gently air-dried.
Our unique air-drying system carefully removes the moisture using a gentle air-flow, below 40°C and for up to 7 days. This simple and slow method protects both the flavour and the nutrients in the raw ingredients. Our air-drying process does not cook the raw meat, but gently removes the moisture - making it a great alternative to raw food.
Finally, the foods are sliced, packed and quality checked, ready to send to lucky innocent hound's all over the UK.
There is much more to us than this - we hope you enjoy exploring our website to find out what we do to reduce our impact on the environment, support our community, and create moments of delight for you and your hounds!
---
Our Story Began...
Quite simply, it all began with four hairy legs belonging to a not very Innocent Hound! Bongo was our beloved lurcher and the inspiration behind our business.
In 2013 we launched The Innocent Hound and began making high quality, healthy dog treats using locally sourced, sustainable, quality meat where animal welfare is a priority.
We developed our own air-drying system and with leading pet nutritionists, introduced a range of innovative, new products.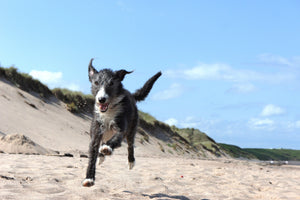 ---
Fast forward to today and we find ourselves in a purpose-built factory in Yorkshire where we are surrounded by an incredible team of people! Our range now includes our award-winning British air-dried food, treats and accessories.
The Innocent Hound has always been committed to supporting dog rescue charities.The company's zero food waste policy means that food is regularly donated to rescues across the UK
Although Bongo is no longer with us, his legacy lives on! Meanwhile his brothers, Ziggy and Mash, have stepped up to the role of over-seeing their very own food factory!
We hope that your pets enjoy these treats as much as ours do!
With love,
Chloe & Justin
---
Read Our Latest Blogs
Fleas are not just a seasonal issue for the warmer months but can actually be an all-year-round problem.
The key to keeping any dog fit and healthy is to feed it a balanced and nutritious diet.  A good diet should consist of the correct balance of Fats, Carbohydrates...
The health and happiness of your furry friends can be hugely impacted by what you feed them. Choosing a good diet, with high-quality food and treats is essential for their...